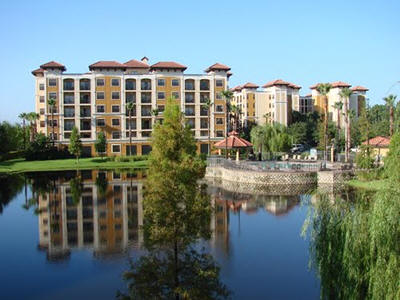 Floridays Resort Orlando offers your own personal retreat for you to enjoy whenever you choose. The condominium units feature plenty of amenities that will ensure that your family's vacation is splurged in luxury. From Jacuzzi tubs in the master bedrooms, to large screen televisions, the two and three bedroom units are generously sized and include spacious balconies. You'll love the convenience of knowing that your vacation home is equipped with the most wonderful furniture and accessories. Designer art pieces, upholstered furniture, splendid window treatments, and fully equipped kitchens ensure that you have all of the comfort in your home away from home.

Granite countertops, 37 inch Plasma Color Television with included cable, DVD and CD players in every living room, and appliances galore ensure that you have all of the necessities that you need. Washers and dryers are included so you never need to worry about traveling to have your laundry done. At Floridays Orlando, all of these amenities are included! With features such as theses, all you need to concern yourself with is packing and planning your ultimate Orlando vacation.

When your not enjoying the grand sites of Orlando, you'll enjoy cooling off in the swimming pool or playing a fun filled game of volleyball. Children are a priority at Floridays Orlando Resort and there is a children's play center, activity center, a game room, and water jet play center just for kids. Floridays Resort Orlando is the perfect choice for those who are seeking the best in condominium resort vacation units.
---
Call us or click here to request more information right now: or call us now 321.354.4057.
---
Floridays Resort Orlando Onsite Amenities:
Welcome Center
Hotel Check-In Facility
Concierge Station
Fully Equipped Fitness Station
Electronic Game Room
Children's Activity Center
Grand Swimming Pool Complex

Expansive open pool with lounge area
Adjacent deck for casual gathering
raised sunbathing area

Adjoining beach area◦Volleyball Court

Additional sunbathing section
Children's play area

Water jet playscape for small children
Poolside bar and grill
Smaller private pool - Especially suited for lap pool and sunbathing
Shuttle Bus service to theme parks
Distances from Floridays Resort Orlando:
Disney World Resort - 15 min.
Animal Kingdom - 15 min.
Epcot / MGM Studios - 20 min.
Downtown Disney - 25 min.
Universal Studios - 35 min.
Orlando International Airport - 35 min.
Sanford Airport - 75 min
Downtown Orlando - 30 Min
---